As you Try and fight off The Blackrock orcs you Find There too hard so you Find a Man That you think Would Be willing to Help you Battle Off The Blackrock orcs But you then Find out Hes Not so There is only One Thing to do! Persuade Him so you Go and Find some Memorial Items and his Very own Men as Your Crushing the Last Remaining Leader of The Blackrock orcs You Come To find out that the Orcs are Working For Deathwing Himself you Find yourself in a Trapped But The Hero John .J. Keeshan kills The Dragon Dead or alive...We Will Have To find out.... Please Click The Title to Watch the Video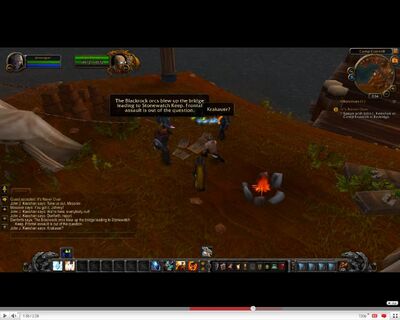 Ad blocker interference detected!
Wikia is a free-to-use site that makes money from advertising. We have a modified experience for viewers using ad blockers

Wikia is not accessible if you've made further modifications. Remove the custom ad blocker rule(s) and the page will load as expected.