John "TotalBiscuit" Bain is a YouTuber in the Polaris network alongside Jesse, the Yogscast, Dodger etc. and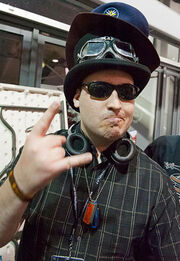 currently operates two YouTube channels within the network (
TotalHalibut
&
TotalBiscuit
). TotalBiscuit was one of the founders of The Game Station network and invited many of the now popular channels to join the network including the Yogscast and Jesse. 
TotalBiscuit has featured on Jesse's channel many times in series such as; Terraria, Dead Rising, Renegade Ops, and Awesomenauts. The Terraria series is the longest running on both of their channels and the most popular to date on Jesse's channel, one of the most well known parts of the series is the Frankenstein Joe running gag. It is often joked that the series has only continued due to the ad revenue it provides.
Jesse and TotalBiscuit played Star Wars Kinect in May 2012, TotalBiscuit considered this game to be "the death of Star Wars" and the ensuing video is considered one of the funniest videos the pair have featured in together.
Ad blocker interference detected!
Wikia is a free-to-use site that makes money from advertising. We have a modified experience for viewers using ad blockers

Wikia is not accessible if you've made further modifications. Remove the custom ad blocker rule(s) and the page will load as expected.